What is Pueraria Mirifica Cream?
It is a topical, breast massage cream based on extract of the Pueraria Mirifica root. This plant (known locally as White Kwao Kreu) is a herb that is found in the forests of Northern and Western Thailand, at elevations of 1000 to 3000 feet above sea level.
Pueraria Mirifica Cream is the other half of the herbal combo in Breast Actives pills plus cream.
The root is a tuber that is an excellent source of phytoestrogens (compounds found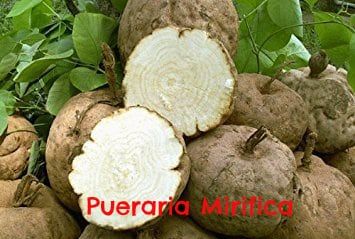 in certain plants that are similar in structure and action to the hormone, estrogen). The estrogenic effects in this root are substantially higher than in other source plants, such as soya or alfalfa. Phytoestrogens are the main substances that create the natural breast enlargement results of Breast Actives therapy.
The Pueraria Mirifica cream contains groups of phytoestrogen comprising isoflavones (daidzein, daidzin, genistein, genistin, and puerarin) and miroestrol and its derivatives – stigmasterol, beta-sitosterol, coumestrol, mirificoumestan, puerarin, kwakhurin, mirificin, b-sitosterol. These phytoestrogens – miroestrol and its derivative, deoxymiroestrol – have stronger effects than the isoflavones of soy and red clover. Miroestrol and deoxymiroestrol are currently being studied for the possible use in hormone replacement therapy (HRT) for women going through menopause.
What are the Benefits
It is known that isoflavones can enhance the firmness, shape and uplift of female breasts; can alleviate the discomforts of menopause; and can improve skin tone in women. By using the pueraria mirifica cream containing Isoflavones in high concentration, most women experience enhancement of breast size and firmness.
Professors Kuramoshi (of Japan) and Yuthana (of Thailand) conducted the first documented study of herbal breast enhancement on human females. The tests were conducted on 50 Japanese women of ages ranging from 20 to 49 years. Daily doses of 100 to 600 mgs of this same extract were administered to the women. At the end of the study period, over 70% of the women in each group showed significant increase in breast size and/or firmness.
Chulalongkorn University of Thailand conducted studies of breast enhancement on women with these herbal extracts extracts. In these trials, Pueraria Mirifica cream increased breast size by up to 80%. Tests with this plant in England have found beneficial effects on hair, skin and breasts of women.
The formulation of the Breast Actives Cream is based on such research findings.
In Eastern countries like Thailand and others, from generation to generation over centuries, women have passed on the knowledge of the amazing rejuvenating properties of the Pueraria Mirifica root. It is only in recent times, that the Western world has become aware of these properties and have started controlled trials to examine these.
Pueraria Mirifica and Cancer Prevention
In addition to the enhancement of breasts, recent studies indicate that this amazing herb could be of help in the prevention of cancer of the breasts. Studies have been conducted at the the Obstetrics and Gynecology Department at the Phramongkutklao College of Medicine, in Bangkok, Thailand and in Atlanta, Georgia, USA at the Emory University School of Medicine, involving breast cell lines and Pueraria Mirifica activity in vitro. These studies have demonstrated that the rhizome extract of the herb has effective anti-estrogenic properties against aggressive breast cancer lines in vitro, particularly against the estrogen receptor-positive (ER+) breast cancer lines T47-D, MCF-7, and ZR-75-1). These studies found that this plant extract promotes fibrocytes within normal cells of the breasts and restricts the growth of breast cancer cells that are dependent on estrogen.
(References: Unpublished, 2001, Sawatsri, S., Juntayanee, B., Jitpatima, S., Boonnao, P., Kampoo, C., Ayuttaya, N., Wongyai, S. and Sidell, N.)
Pueraria Mirifica Cream is the breast enhancement cream which is part of the Breast Actives package.
Medical Review of Pueraria Mirifica – Dr. Keith Scott-Mumby, MD, PhD
>