Breast Actives Ingredients – Pills
Supplement Facts Serving Size: Two (2) Tablets:
30 Servings Per Container
Other Supporting Ingredients:
Calcium Carbonate
Dibasic Calcium Phosphate
Tribasic Calcium Phosphate
Microcrystalline Cellulose
Croscarmellose Sodium
Stearic Acid
Magnesium Stearate

Silicon Dioxide
Modified Cellulose
Maltodextrin
Hydroxypropyl Methylcellulose
Hydroxypropyl Cellulose
Pharmaceutical Glaze
Water.
Method of Use: Take two Breast Actives pills per day, in the morning after breakfast. Swallow with water or fruit juice.
Breast Actives Ingredients – Cream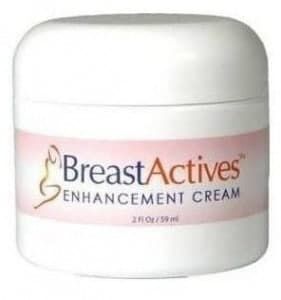 Active Ingredients: Pueraria Mirifica Extract – 10%
(Pueraria Mirifica clinical studies here),
Red Clover Extract – .5% and Sepilift® – 1%
Other Ingredients:

Purified water
pueraria mirifica extract
almond oil, avocado oil
rheocare ath
safflower oil
sepilift dphp
borage oil
vitamin e acetate
vitamin a palmitate
wild yam extract
chamomile extract

red clover extract
grapefruit seed extract
damiana extract
saw palmetto extract
fenugreek extract
aloe vera extract
hydrolyzed colagen
avena sativa extract
hyaluronic acid
germaden II.
How to Use: Take a small amount of the cream on your fingertips and massage it into the breasts every morning.
Caution: If you are pregnant, nursing, or on prescription medication, consult your doctor before using Breast Actives. Do not exceed suggested use.
Storage: Store this product in a cool dry place below 30°C (86°F). Keep out of reach of children.
Action of Individual Herbal Extracts in Breast Actives Ingredients -Pills
The active ingredients listed above have been widely used in traditional herbal and naturopathic medicine. Most of these herbs and plant extracts received attention from herbalists only after Dr. James Duke published "The Green Pharmacy", in which he examined and discussed the amazing hormone-balancing properties of these plant and herbs.
The action of each of these, in relation to beast enhancement, is described below:
Fenugreek Seed Extract – This herbal extract contains some of the highest concentrations of the plant elements recommended by herbalists for breast enlargement. It is also a hormone regulator that is used to treat menopausal symptoms and balance the female system. Fenugreek seed is a popular supplement for minimizing symptoms of menopause, relieving constipation, controlling diabetes, reducing cholesterol, soothing sore throat pain and coughs, and easing minor indigestion and diarrhea. Modern scientific research has confirmed that Fenugreek contains the chemicals diosgenin and isoflavones, which are similar in structure and action to estrogen, the female sex hormone. It's properties imitate the action effect of estrogen in women's bodies. This herb stimulates the development and growth of healthy breast tissue just like estrogen does in girls going through puberty.
Fennel Seed – This herbal extract is rich in flavonoids that cause estrogenic effects. This is the key to the formation of new breast cells and tissue. Fennel seed also helps to cleanse waste out of the body. This boosting of excretion ensures cleansing of the estrogen receptor sites, which get clouded with environmental toxins that mimic estrogen. By acting to remove these and other toxins from the body, Fennel Seed acts as a tonic and stimulant as well. An infusion of the fresh root is said to be good for gallstones, jaundice, and other liver problems. No side effects or contradictions with normal use.
Dong Quai root – This herb aids the body in the efficient use of hormones. It is used successfully to alleviate PMS (premenstrual syndrome) and menopausal symptoms (Hardy 2000). Dong Quai extract has been shown to have a muscle relaxant effect and has been used as an analgesic and anti-inflammatory agent. Scientists believe that one of the actions of Dong Quai is to promote natural progesterone synthesis. Progesterone is another hormone whose production declines at menopause. This plant nutrient helps to improve the health of the breast tissues.
Blessed Thistle root – is used to treat a variety of female problems including painful menstruation and the associated aches and pains. It is used as a hormonal regulator and an aid in digestion and circulation. Containing Vitamin B-complex, calcium, iron, manganese, cincin and essential oils, Blessed Thistle improves blood circulation and purifies the blood, thereby increasing oxygen supply to various organs of the body. It has powerful estrogenic properties, due to which it is widely used for nursing mothers – the warm infusion scarcely ever fails to procure a proper supply of milk.
Dandelion (root) – This has been recommended for treating anxiety, depression, and nervousness. It is a traditional herbal remedy for hormonal imbalances, poor development of the breasts or mammary glands, reduced or inadequate libido or sex drive, menopausal discomforts, infertility and PMS.
Kelp (whole plant) – Kelp has a high iodine level that gets converted into hormones T3 as well as T4 by the thyroid which in turn releases prolactin. Prolactin leads to milk production during lactation. This leads to an increase in the fat that is stored which leads to growth in the size of the breasts.
Watercress (Leaf) – The leaves of Watercress are rich in vitamin E and it strengthens the blood vessels that carry the required nutrients for the breast tissues.
L-Tyrosine –This is an amino acid that is a building block for epinephrine, dopamine, and norepinephrine. It helps to release progesterone due to the improvement in the functioning of adrenal, thyroid, and pituitary glands which control the level of hormones.